14 October 2008— No where is the style of English gentrified prep so well personified than in the characters of a certain all-girls school on TV. Before she in particular appeared on screen I had always had a soft spot for the English gentry genre ("No, the green one," — Mr Darcy on choosing a suit to send Elizabeth off after an unexpected visit at his Derbyshire estate), but English gentry and prep together was something else, something a little different, a new style that sent my imagination running and my creativity on fire. So, one fine boring day in October, I took out a frilly collared shirt, a "vest" (that was really just a racerback tank), a ribbon, a flower brooch with an old English countryside flair, a black pleated skirt and a pair of maryjanes to get dressed for — where else? — school.



grey blouse with puffy sleeves and frills - present from Edmund's mum
dark red racerback - American Apparel
black skirt last worn here - made by mum
ribbon necklace last worn here - self made
camellia brooch last worn here - mum's
black acrylic diamond silhouette ring last worn here - Alissia MT
black maryjanes with white captoes last worn here - Mink




The stark contrast of white and black at my feet is a recurrent theme from the monochrome of black necklace and ivory brooch at my neck.
Another pair of shoes that I could have worn to channel the preppy look would be my black gojane oxford booties, but I felt that would be too much, too hardcore and unnaturally forced like I was on my way to a costume dress up competition. For me, captoe maryjanes (in comparison to completely black ones) were a less obvious reference to the preppy genre.

More closeups of my maryjanes here.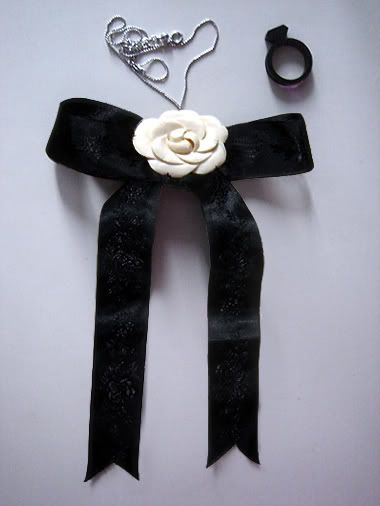 Unlike previously where I merely pinned the ribbon and necklace chain together, this time I put my ribbon necklace together in another way: I attached the ribbon to the loop of a pendant, borrowing the latter's chain for this necklace.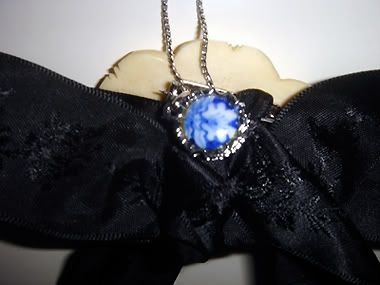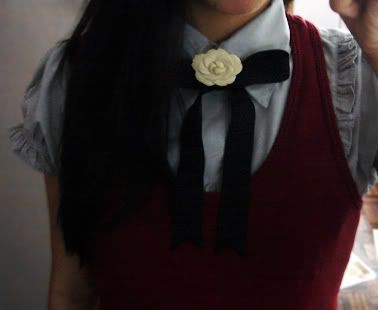 Above (left): back of my ribbon necklace.

The blue object you see in the picture is the necklace pendant from my mum's collection, of which I 'borrowed' the chain for my ribbon necklace. The lovely blue and white pattern on the pendant is a flower. The style reminds me of both Dutch windmill ornaments and porcelain from the Tang Dynasty at the same time.